The (US) Ambassadors Fund for Cultural Preservation
The (US) Ambassadors Fund for Cultural Preservation has supported many projects in Laos over the last ten years and to celebrate this milestone the US embassy in Vientiane decided to create an exhibition showing the variety of projects they've supported.
We were asked to get involved and we worked closely together with Pam DeVolder to create a beautiful show in the National Museum in Luang Prabang, Northern Laos. Paul Bloxham, a designer I have worked with on several projects, worked on the design for the panels and also created the layout for the show; www.paulbloxhamdesign.com
Below some of the panels and the layout in the museum. The show was moved to Vientiane and during the US Secretary of State's visit to Laos, Mrs Hilary Clinton managed a quick visit to see part of the show. Both Paul and I received great feedback for the quality of the work produced. My thanks to Pam DeVolder for trusting us with this work and her great help in keeping the process moving. The panels were printed in Bangkok by Bloom Pro Lab and thanks to Mark Ogaslert for his quality outputs.
The show was then moved to Vientiane for the visit of  US Secratary of Sate Mrs. Hilary Clinton.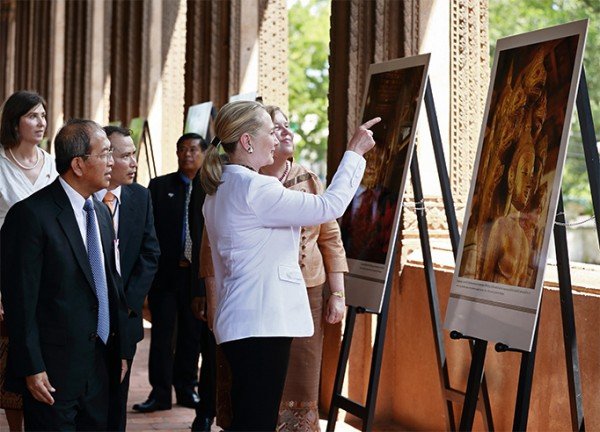 Secretary of State Mrs Hilary Clinton in Vientiane admiring the AFCP display.
I organised the historical archive of photography done by colleagues and added photography shown below to help the visual style further. We arranged the large format printing in Bangkok and this was shipped via the US Embassy to Laos. The 34 panels arrived in perfect shape and we set about to set up the show with borrowed artefacts from one of the temples to illustrate works that had been supported through the AFCP projects. One small museum that receives regular support for projects they undertake is the Traditional Arts & Ethnology Centre. You can visit the website here: http://www.taeclaos.org/
The show was a great success, opened by Ambassador Karen B. Stewart and attracted a lot of attention from visitors around the world.
The (US) Ambassadors Fund for Cultural Preservation communicate their projects from around the world in their annual report. The most recent publication incorporated some of the projects supported by the US Embassy in Vientiane for projects in Laos. We were lucky to get the front and back covers as well as  beautiful spread inside the publication.