Princess Samounta's Choice
The theft of their lucky elephant mascot means that teenager Aelin and fellow members of a Northern Lao Taekwondo club have to turn detectives, only to find themselves caught up with an international smuggling ring and the unsettling re-enactment of a local legend steeped in mystery and romance.

Original Script written by Terry Newman for Running Reel
Production Company: Running Reel Media, Lao PDR
Director: Dorn Bouttasing
Producer / DoP: Adri Berger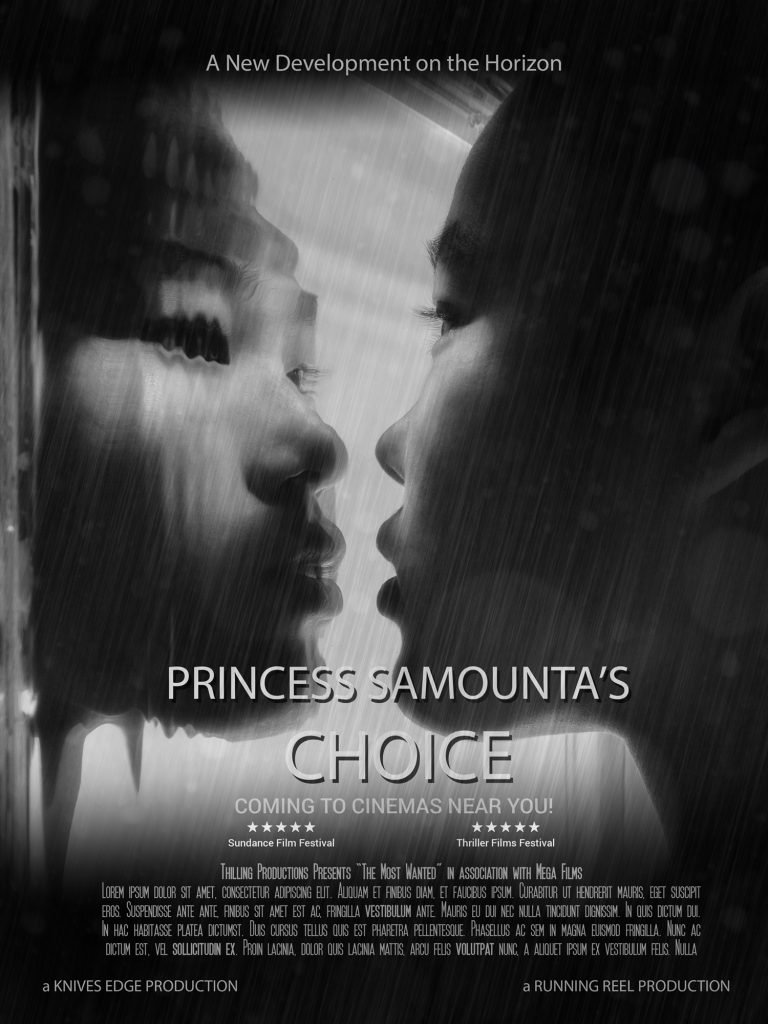 The magical city of Luang Prabang, the old royal capital of the former Kingdom of Laos, nestles on a peninsula at the confluence of the Nam Khan and Mekong Rivers. It is a place of mystery and history and now an ancient legend is about to be re-enacted one more time.
Above a set of photos showing the location area of Luang Prabang  and surroundings.


©Adri Berger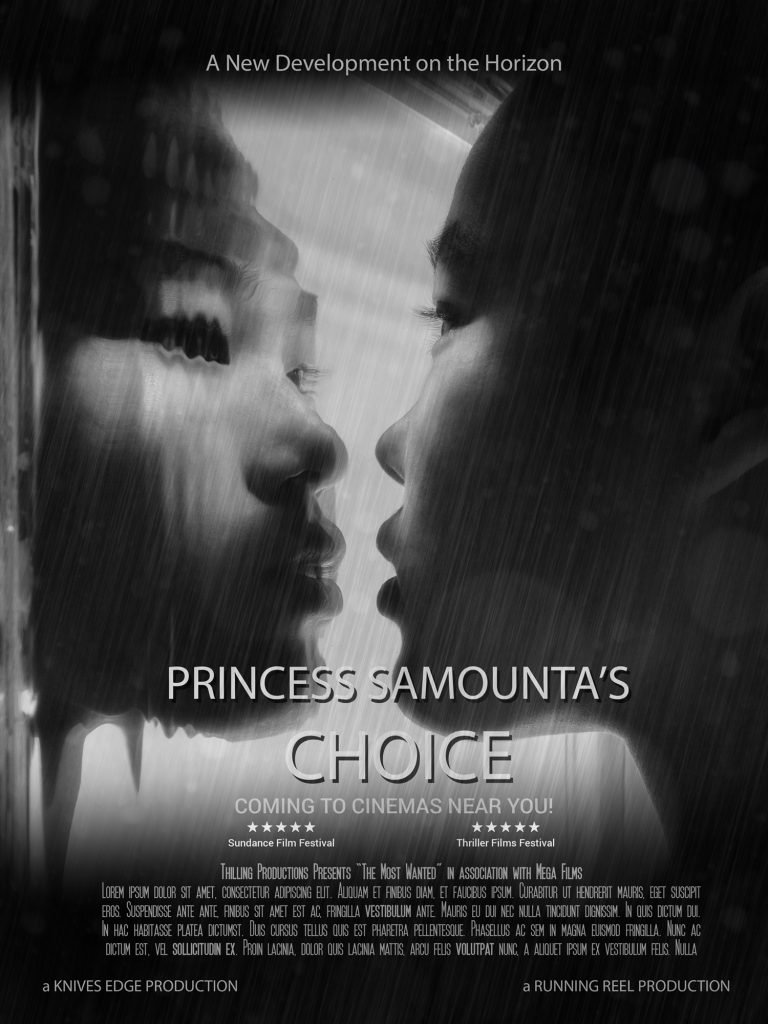 Synopsis: Princess Samounta's Choice

The magical city of Luang Prabang, the old royal capital of the former Kingdom of Laos, nestles on a peninsula at the confluence of the Nam Khan and Mekong Rivers. It is a place of mystery and history and now an ancient legend is about to be re-enacted one more time.
It begins with theft of the mascot elephant statue 'Xia Xang' from 'The White Elephant Taekwondo Club' – just before a big tournament as well! When the police aren't interested a group of the club's teenagers vow to get their lucky mascot back and ensure they'll win the competition. But will it be in time? They do they have a great new teacher in the mysterious Korean Dangun and a natural leader in the gutsy, athletic Aelin, who is also a fabulous traditional dancer. As with so many things, Aelin is pulled between the traditional and the modern. The son of one of Aelin's father's work colleagues, the handsome Dara Dao, who obviously fancies Aelin, says they don't stand a chance of winning! Rebel Singto, of the Yao hill tribe, who names their group the 'Blossom Knights', joins the young detectives. Things start to look up. 
The Knights carry out a house-to-house and put up 'reward' posters. They get a lead – an expensive BMW seen on the night of the robbery. An intelligence-gathering trip to an Elephant Sanctuary suggests there is more to their Xia Xang statue than what they thought, according to an old Mahout. But can he be believed? He seems to get Aelin mixed up with a Princess Samounta.
Dangun berates the Knights for losing concentration during training, and insists training is more important than lucky statues.
Aelin though feels that the theft was an insult and they must get the statue back. Using contacts that Singto has through his missing policeman father, they next see if the superstitious local criminal fraternity can help them. This goes amiss and they are forced to fight and run – but not before Singto sees one of Aelin's father's company crates in the hideout.
Following Dangun's advice the Knights consult with the sha-woman 'Ancient Lil.' She recounts the story, via a shadow puppet show, of Princess Samounta, a legendary figure from Laos history. Samounta loves a young monk Thao – totally unacceptable for a princess! When her father arranges a marriage with a local Prince, whom Samounta dislikes, Thao bows to tradition and exiles himself while Samounta locks herself into a cave and dies. The Knights are confused about how this can help them, but when Lil also calls Aelin 'Samounta' she is disturbed. Singto, preoccupied riding his motorbike, has a narrow escape when a BMW forces him off the road. Aelin has to go for a meal at a nearby restaurant with her family and Dara's father and beautiful mother. Pulled on the floor to perform a traditional dance, Aelin realises her father has something similar in store for her – to marry Dara Dao!
Aelin sneaks out from home and goes to the club where she confesses her disquiet to Singto. The two are now getting close and after she leaves, Singto goes on his motorbike to the Bowling Alley to warn Dara away from Aelin. Dara says that not only will he marry Aelin, he will inherit her father's transport business as well as his own father's import/export company. After their fight is broken up, Singto tails Dara to his father's warehouse. Once there Singto spies on those assembled and see that Dara's father, Dao, is the criminal's Big Boss and he is smuggling illegal ivory in false bottoms of Aelin's father's company crates.
Singto is seen and chased through the dark jungle paths on his bike by the BMW. By the time he gets to the club he finds the police there – to arrest him for smuggling ivory! Aelin's father's house is searched and he furiously bans his daughter from Taekwondo – and she will marry Dara! 
Dangun bails Singto out and tells him to fight for his Samounta – Dangun never did! Singto is confused but when they kidnap Dara he admits to stealing Xia Xang to dishearten their club. Although he insists he no longer has their statue. Aelin begins to understand. She entices her father to his warehouse where she shows him the hidden ivory. He is shocked and says he will clear Singto's name and get Dao arrested. Aelin then leads the Knights to the fabulous caves where Samounta died. She expects to find Dangun and their statue, suspecting that he has retained their mascot so that the teenagers realise they only need believe in themselves.  She does not expect to find Dao and his minions. Dangun has enticed them there. He has a score to settle, for when he loved, but gave up on, the woman who became Dao's wife, after her father insisted! Together the Knights and Dangun – and what might have been some supernatural help from the departed princess – see off the criminal gang and Dao is arrested. 
Xia Xang is returned to his rightful place in 'The White Elephant Taekwondo Club'. Aelin realises that, unlike Princess Samounta or Dao's wife or even Ancient Lil – when it had been her story too – she is now not just faced with the same old choices. And it's not just about tradition versus modern either. She can choose for herself when she wants to. Singto thinks this is great and, together with the other Blossom Knights, they move forward, convinced that now they will win the National Taekwondo competition.
A fast-moving action film that combines tradition and modernity, as well important questions about especially the roles of young women and men in today's society, in a magical location filled with mystery and romance, 'Princess Samounta's Choice' opens a new chapter in Southeast Asian film making.
SCRIPT AVAILABLE ON REQUEST          
Thank you.
Script and Synopsis written by Terry Newman © Running Reel

 Contact; Adri Berger at Running Reel;  adri@runningreel.net   www.runningreel.net
Tel: +856 20 77776749 (WhatsApp)
Above and below two short video compilations showing the location area of Luang Prabang and some of the taekwondo teams and students.


©Adri Berger
Send us a request to see the script